Mobile Vikings application
It is an application that enables Mobile Vikings users to view their remaining credits, data. It also shows until when the credits are valid.
Only tested on Windows Vista, Windows 7 and Ubuntu 10.10, but should work just fine on all other operating systems that support Adobe AIR.
I don't have multiple sims, so for me there is no way of testing that it works. But on demand it can be done. So until then: no real support for multiple sims.
Screenshots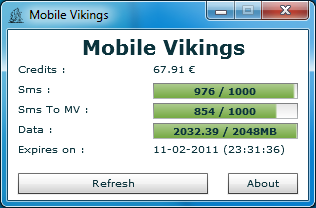 Instructions
Download the application
Execute the file with Adobe AIR installer
Install the application
When you start the application you need to provide your username and password of your Mobile Vikings account (no settings will be saved yet, you'll need to provide on every execution)
Ubuntu
If you execute the application in Ubuntu you will be asked for some information like the server etc. That's only Ubuntu's way of asking for your username and password. So in the input "Server" you enter your Mobile Vikings username, and in the other input you enter your password. You'll see it works just fine after you did that.
(I hope I can fix this problem in later builds).
Author
Nicolas De Smyter <>
Many thanks to Sofie Van Gassen who made it all possible !
Download !
Direct link: http://www.ndsmyter.be/files/MobileVikings.air